I guess almost all of us are familiar with the Facebook Social ToolKit which is a Google Chrome extension used for some kind of tricks including: adding friends to a group in just one click, mass invite, etc.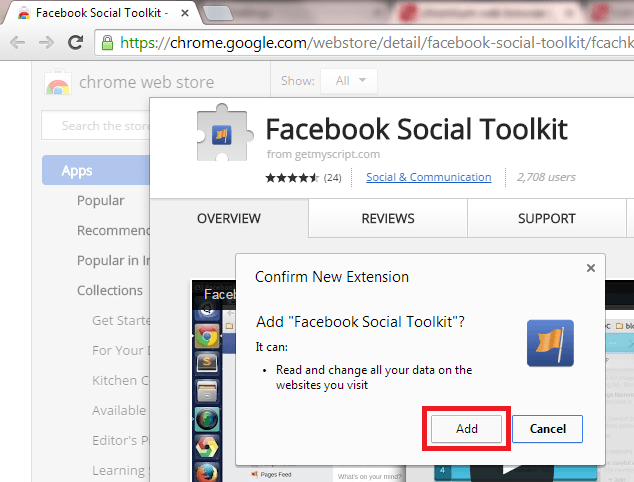 How To Use The Cracked Facebook Social ToolKit
1. Launch your Google Chrome and navigate to Settings and then Extensions or use chrome://extensions to access eaily

2. Drag and drop the fcachklhcihfinmagjnlomehfdhndhep-2.3.1.crx file to your Google Chrome Extensions page.

3. Click Add Extension (Facebook Social Toolkit Version 2.3.1.0 will be install in your Google Chrome)

4. Open your File Manager now and go to
C:Users<YOUR_USERNAME>AppDataLocalGoogleChromeUser DataDefaultExtensionsfcachklhcihfinmagjnlomehfdhndhep2.3.1_0contentjsglobal
5.Copy content of the Patch folder (validate.js) to the above directory (Point # 4) and then you can Replace with original one.

6. Now launch your Chrome and click on Facebook open Social Toolkit, then click on any premium tool in Social Toolkit it will ask you for Email Address and Serial Key

7. Enter any Email Address or Serial Number.

Enjoy! Use the share button below.
Download Cracked Facebook Social ToolKit Here
The download link above contains ads, skip the advertisement and then verify that you are human, you will be redirected to the download page immediately. Brainslodge Cares about you.
If you have any problem with this method comment below.
We love comments. Please comment.